Upcoming Events
National Day of Remembrance: On Saturday, September 9, 2017, Citizens for a Pro-Life Society, Priests for Life and the Pro-Life Action League will co-sponsor the 5th annual National Day of Remembrance for Aborted Children. There are over 51 cemeteries in the United States that provide gravesites for aborted children. They will conduct solemn prayer vigils at these gravesites as well as at dozens of other sites dedicated in memory of aborted children. There are no known services locally in Kentucky or Ohio so we ask you to take some time on September 9 to pray for aborted children and their families.
Care Net Annual 5K Run/Walk for Life is Saturday, September 23 at Pioneer Park starting at 9:00 am. Individual runners/walkers $25; children 12 & under $10; dri-fit t-shirt $10 (fees waived with $100 in pledges). Proceeds benefit the Parenting Education programs offered at Care Net Pregnancy Services.
HUSH – The showing of the movie HUSH will be held at St. Pius X in Edgewood KY on Tuesday, September 26 beginning at 6:30 p.m. This internationally acclaimed, award winning documentary explores the impact of abortion, miscarriage, and contraception on women's health.  It is especially unique in that it is directed by a pro-choice woman and she works with a pro-life executive producer and a 'neutral' producer.  Visit the website to learn more and to see the film trailer (at bottom of page): http://hushfilm.com/
40 Days for Life – The next 40 Days for Life will begin Wednesday, September 27 and run through Sunday, November 5. The Cincinnati 40 Days for life Kickoff Rally will be September 27, 7-8pm in front of Planned Parenthood with special guest, Shawn Carney. Your public prayer witness is needed at Planned "Parenthood" throughout the 40 Days for Life campaign. Coverage time is every day from 7am to 7pm.  Please consider signing up to cover an hour (or more if possible) of prayer at Planned Parenthood. Go to www.40daysforlife.com/cincinnati to register and sign up for vigil hours or contact Mary Clark, Coordinator, with questions.  There is also a weekly group vigil held every Friday throughout the campaign from 7 – 8 PM.
Life's 5th Quarter Mass and Prayer Walk will be held Saturday, September 30. Bishop Roger Foys will be the celebrant. All young people are encouraged to come and participate and bring a friend (and your parents).
The Diocesan Pro-Life Mass will be held Tuesday, October 3 at the Cathedral Basilica of the Assumption. The praying of the rosary begins at 6:15pm and mass is at 7:00pm.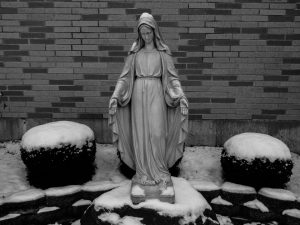 Families for Life
St. Paul's Families for Life promotes the Gospel of Life and is committed strongly to human being's right to life. They work toward that goal and supports the Diocesan works as well. On pro-life Sunday, they help sell pro-life items and take signatures for the right-to-life newspaper ad. They also pray the rosary for different life issues and attend the Pro-Life Mass. If you would like to join the Families for Life, contact the rectory office.
Main Projects
January – Prayer service coincides with the Washington March for Life
May/June – Baby Bottle Campaign (collect money for Care Net in Northern Kentucky)
June- Crossing the Bridge for Life event
October – Pro-Life Month with Pro-Life Sunday and the collection of signatures for right-to-life newspaper ad.
How to Join
If you would like to join Families for Life or want more information about us, send us an email!