Families for Life
St. Paul's Families for Life promotes the Gospel of Life and is committed strongly to human being's right to life. They work toward that goal and supports the Diocesan works as well. On pro-life Sunday, they help sell pro-life items and take signatures for the right-to-life newspaper ad. They also pray the rosary for different life issues and attend the Pro-Life Mass. If you would like to join the Families for Life, contact the rectory office.
Main Projects
January – Prayer service coincides with the Washington March for Life
May/June – Baby Bottle Campaign (collect money for Care Net in Northern Kentucky)
June- Crossing the Bridge for Life event
October – Pro-Life Month with Pro-Life Sunday and the collection of signatures for right-to-life newspaper ad.
How to Join
If you would like to join Families for Life or want more information about us, send us an email!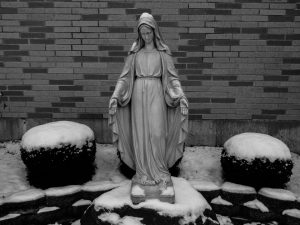 Past Events
2017 Cross the Bridge for Life – Sunday, June 4 the Diocese of Covington and the Archdiocese of Cincinnati, in conjunction with the Greater Cincinnati Life Coalition, invite everyone to join the annual Cross the Bridge for Life. The event will take place at the Festival Park on the river next to the Purple People Bridge and behind the Newport on the Levee. The festivities start at 1:00PM and the walk begins around 2:00PM, after a brief program. Activities include free face painting, clowns and balloon artists, music be Easter Rising and free t-shirts (donations welcome). A free picnic follows the walk with food provided by J.T.M. Food Group. Mark your calendar, bring your family, join in the fun and the walk with our bishop, priests, seminarians, religious and lots of your neighbors.
Novena for Life –
Being pro-life is about cherishing and protecting each person and his or her life at every stage and in every circumstance. That's why the U. S. Catholic bishops are asking us to participate in 9 Days for Life–a digital pilgrimage from

January 21-29

.
Sign up now at 

www.9DaysforLife.com

 to be moved by mercy, and to share with others the joyful truth that every life is worth living.

 

Sometimes all it takes is simply stopping long enough to really see someone.
There are several ways to participate, which can be found on the above site: Download a Novena app, Sign up for a daily email or text messages, download the novena, or join the Facebook event (

www.goo.gl/UMtYrL

).

 

Join in the novena.
March for Life 2017 – Many will be heading to Washington for the March for Life 2017. If you would like to join the pilgrimage or have questions, contact Peggy Piccola at ppiccola@covdio.org or 859-392-1500. There is an adult/family bus departing from St. Henry District High School January 26 and return on January 28. Besides the march there are many other events that occur in Washington during this time. There will also be events taking place at our parish and in the diocese.