Families for Life
St. Paul's Families for Life promotes the Gospel of Life and is committed strongly to human being's right to life. They work toward that goal and supports the Diocesan works as well. On pro-life Sunday, they help sell pro-life items and take signatures for the right-to-life newspaper ad. They also pray the rosary for different life issues and attend the Pro-Life Mass. If you would like to join the Families for Life, contact the rectory office.
Main Projects
January – Prayer service coincides with the Washington March for Life
May/June – Baby Bottle Campaign (collect money for Care Net in Northern Kentucky)
June- Crossing the Bridge for Life event
October – Pro-Life Month with Pro-Life Sunday and the collection of signatures for right-to-life newspaper ad.
How to Join
If you would like to join Families for Life or want more information about us, send us an email!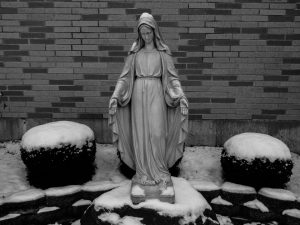 Upcoming Events
Cross the Bridge for Life: Join Bishop Foys and Archbishop Schnurr of Cincinnati and thousands of others Sunday, June 3, at 1 PM for the 13th annual Cross the Bridge for Life across the Purple People Bridge to raise awareness for the sanctity of human life–born and unborn.   Meet at Newport, KY's Riverfront Row Festival area for a brief program including music by the Easter Rising Band, face painting for the children and more!  All are welcome to participate in this day of family fun and powerful witness. For more information, see CrossTheBridgeForLife.com
Life's 5th Quarter – Mass and Prayer Walk will be held Saturday, June 30.  This prayer march is really meant to get our children involved in the fight for life through the praying of the rosary.  Encourage your teenager to attend and bring a friend, and you can come along too!  Mass starts at 8:00 at Holy Name Church on Auburn Ave (Cincinnati) followed by a rosary prayer walk to the Planned Parenthood facility.  It is a very powerful experience seeing the many young people gathered together in prayer.