Upcoming Events
Washington DC March for Life 2018 – The Pro-Life Office is sponsoring an adult/family bus for their annual pilgrimage to Washington DC in January commemorating the 45th Anniversary of the Supreme Court's Decision of Roe vs. Wade.  The bus departs from Erlanger on Thursday, January 18th and return during the afternoon of Saturday, January 20th. For information and reservations, please contact the Pro-Life Office at 859-392-1500 or email ppiccola@covdio.org.
Nine Days for Life Novena – This annual period of prayer and action is focused on cherishing the gift of every person's life. The novena runs January 18 – 26, 2018.  While the overarching intention of the novena is the end to abortion, it also addresses topics spanning across the range of life issues. Each day's one-page prayer guide focuses on a different intention.  The novena prayer has not been released but you can visit the website at www.9dayforlife.com to see the different methods for obtaining and following the novena.
40 Days for Life Campaign: It may not be New Year Day but make a resolution to join in the 40 Days for Life campaign; to pray in front of the Planned Parenthood facility in Cincinnati. Go to the Cincinnati 40 Days for Life site at 40daysforlife.com/Cincinnati to sign up, directions and coordinator contact information.  The next campaign begins on Ash Wednesday, February 14 and ends Palm Sunday, March 25.  If you like to pray with a group, a vigil is held every Friday evening during the campaign.  (Please see site for the exact time but usually begins at 7:00 pm and last an hour.)  If you are not able to make it to the facility, please consider setting some time each day to pray for the end of abortion and respect for all life.  Through your prayer and fasting, we can put an end to abortion.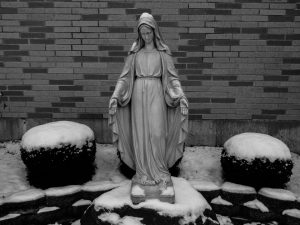 Families for Life
St. Paul's Families for Life promotes the Gospel of Life and is committed strongly to human being's right to life. They work toward that goal and supports the Diocesan works as well. On pro-life Sunday, they help sell pro-life items and take signatures for the right-to-life newspaper ad. They also pray the rosary for different life issues and attend the Pro-Life Mass. If you would like to join the Families for Life, contact the rectory office.
Main Projects
January – Prayer service coincides with the Washington March for Life
May/June – Baby Bottle Campaign (collect money for Care Net in Northern Kentucky)
June- Crossing the Bridge for Life event
October – Pro-Life Month with Pro-Life Sunday and the collection of signatures for right-to-life newspaper ad.
How to Join
If you would like to join Families for Life or want more information about us, send us an email!