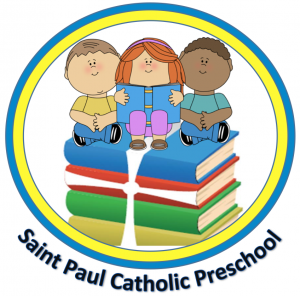 Philosophy: St. Paul Catholic Preschool serves as an introduction for the young child to the St. Paul School and parish community. The preschool strives to honor, celebrate and nurture the growth and learning of the child.
Programs:
3's – MWF program/TTh program/MTWThF program
4's – MWF program/ MTWThF program
Transitional Kindergarteners – MTWThF
Full day (7:50-3:00) and Half Day (7:50-11:00) or Half day with lunch ( 7:50 – 12:00) program
State Licensed Program
Qualified Early Childhood Educators with extensive practical experience, VIRTUS trained & Background checked (CDA's, First Aid & CPR trained)
All learning takes place through experiences. During the course of the day, the children participate in large and small group activities as well as enjoying time working together with other children. The classrooms are set up with learning areas called centers.
Our Preschoolers also get the opportunity to go to Art, Music. PE, Computer and the Library along with their preschool teacher. It is a great way to introduce them to these classes and the teachers. Each of these classes uniquely enhances both cognitive and physical development.
Hands on learning
Kindergarten Readiness
Faith Development
Emotional and Social Development
Physical Development
Social Responsibility
Learning Centers:  Art, Science, Writing, Reading, Math & Manipulatives, Dramatic Play, Puzzles & Games and Blocks
Please call Shelly Lemmond at 859-647-4070 ext. 250 for a tour or for more information.
Preschool Daily Schedule
| | |
| --- | --- |
| 7:30-8:00 | Welcome/Sign in/Free Choice (30) |
| 8:00-8:15 | Prayers, Pledge & Jobs |
| 8:15–8:45 | Specials |
| 8:45-9:15 | Circle time (Calendar, weather, letter of week, Bible story, music etc…) |
| 9:15-10:00 | Academic/Small Group Activity & Free Choice |
| 10:00-10:40 | Large Motor (Recess) |
| 10:45-11:00 | Story/Quiet centers/Pack up for 11:00 dismissal |
| 11:00-11:15 | Restroom & Wash hands and transition to Lunch |
| 11:15-11:45 | Lunch |
| 11:45-12:15 | Story/Quiet centers/Prep for nap time/Restrooms |
| 12:15-2:00 | Nap/Quiet time |
| 2:00-2:15 | Wash hands/Snack |
| 2:15-2:45 | Large Motor/Free Choice (40) |
| 2:50-3:00 | Pack up/Dismissal |
Current Special Area Class Schedule:
Monday – PE
Tuesday – Music
Wednesday – Computer
Thursday – Library
Friday – Art
Shelly Lemmond
Preschool Director/Lead Teacher
My name is Shelly Lemmond and I am the Preschool Director and the M-W-F 4-year-old teacher. I was born and raised in the Northern Kentucky area. I attended Villa and St. Pius for grade school and graduated high school in 1994 from Notre Dame Academy. After high school, I attended Northern Kentucky University where I received my Bachelor's Degree in Mental Health and Human Services. This is my 18th year of teaching preschool and my sixth year at St. Paul. I met my husband shortly after college and we were married in 2004.  We have 3 children, our oldest attends St. Henry High School and the younger ones are at St. Paul.  In my free time, I like to hang out with family and friends, scrapbook and watch my kids play sports!
Allison Reed
Preschool Teacher
My name is Allison Reed and I am the teacher in the preschool 4 (5 day a week) classroom. This is my sixth year at St. Paul. I have been happily married to my husband Steve since 2006. We have 2 beautiful daughters who both attend St. Paul School.  I have been teaching preschool for 10 years. My husband and I are actively involved with our daughters' competitive cheer-leading teams and with St. Paul School and Parish.
Krista Hughes
Transitional Kindergarten Teacher
My name is Krista Hughes, this is my fourth year at St. Paul and I will be teaching transitional kindergarten. I have my Associate's Degree in Early Childhood Education and Directors credentials. My husband and I have one child who attends St. Paul. In my spare time, I enjoy spending time with my family and friends, reading and watching my child at his different sporting events.
Jamie Burnside
Preschool Teacher
My name is Jamie Burnside.  This will be my third year at St. Paul. I was a stay at home mom for 11 years before returning to work. I have 3 daughters who attend Beechwood in Ft Mitchell. In my free time, I am busy driving them to their activities. I spend a lot of my weekends at horse shows and dance competitions. I am excited to get to know my new group of 3 year olds and their families.
Dawn Leedom
Preschool Aide
My name is Dawn Leedom and I am a preschool aide.  This is my fifth year as an aide in preschool but previously was a substitute teacher at St. Paul for several years.  Prior to that, I was a project manager for AT&T.  I am a proud graduate of St. Paul School and Notre Dame Academy.  My husband, Chris, and I have sent all six of our children (1 boy, 5 girls)  to St. Paul.  I love working with the preschoolers and watching them grow and develop to be ready for kindergarten.  I enjoy spending time with my family and going on all kinds of adventures.  Anyone who knows me, knows I love soccer, especially our Dayton Flyers!
Colleen Thomas
Preschool Aide
My name is Colleen Thomas and I am a preschool aide. I live in Union, Kentucky with my husband Mike and our twin boys Aidan and Zach. Aidan attends St. Paul and Zach attends North Pointe Elementary.  I graduated in 1996 from Notre Dame Academy, and graduated in 2002 with my Bachelor's in Communication from Northern Kentucky University.