School Theme:
Panthers ROAR
Respect Others
Own Your Actions
Act as Jesus Would
Realize your Goals
You can see all the artwork posted from the wonderful student artists at St. Paul when you click on this Artsonia link: Artsonia.com. Enter "St Paul" into the search box. Then scroll down till you find the Florence, KY page.
Welcome to St. Paul School
We are a 2014 National Blue Ribbon School of Excellence!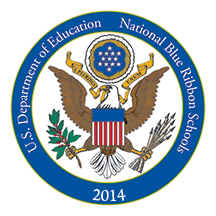 Greetings! We at St. Paul are very pleased to be the choice for over 260 students in the Florence, KY area. We strive to make every day a wonderfully full and fulfilling learning experience. Our motto, Education Wrapped in Faith, guides us as we shepherd our students in their growth; spiritually, academically, emotionally and physically. We are a family-centered school with a strong tradition of high student accomplishment and high parent involvement. We invite you to join us as we go through this wonderful experience called education. Please call 859-647-4070 or email stpaul1@stpaulnky.org to inquire or set up a shadow day.
---
Announcement from Father Barth: January 31, 2020
It is with sadness that I must inform you today that Mrs. Kemberly Markham, our present principal, has informed me that she will not be returning. She has stated to me that family concerns underlie this decision. We thank Mrs. Markham for her hard work and dedication to our school. We will miss her and we wish her the best. We will certainly keep her and her family in our prayers.
2020/2021 Principal
It is with joy that I announce to you today that Mrs. Joanne Nesmith (nee Collins) will be joining us as the new principal of our school in the 2020/2021 school year (next year). Mrs. Nesmith is a daughter of our Parish. Her mother's name appears on the plaque of gratitude located in our cafeteria. Her dad served on parish council, was a member of the Chicken Charlie crew for festivals and volunteered in many other capacities. Her brother, Kevin Collins, and his wife, Debbie Collins (nee Bolte), are strong present members of our parish. Mrs. Nesmith has stated that she is excited to be coming to her alma mater and being a part of strengthening and growing the Parish apostolate of St. Paul Parish Catholic School. She stated to me she feels called to be here and looks forward to getting to know students, parents, guardians, faculty and the parish community at large. Presently, she is the principal at Walton Verona High School, a position she has held since 2014. She has also served as the assistant principal of Camp Ernst Middle School from 2005-2014. She also served as a member of the faculty of Conner High School teaching mathematics from 1989 to 2005. She is a fully certified principal in the Commonwealth for all grades as well as being certified in mathematics for grades 7-12. She has been very involved in the community and has served as a regional leader in developing teaching guides and as a national presenter at workshops for the Southern Regional Education Board. She has received a number of awards and achieved a number of accomplishments of note. Undoubtedly, she will be a blessing to our Parish. As we move toward the new year, we will have a few greet and meet events, so that we can welcome Mrs. Nesmith and start to get to know her.
Fr. Michael D. Barth
Pastor, St. Paul Parish
2020-2021 School Calendar
Our Philosophy
St. Paul Catholic School and its community of families in St. Paul parish promote academic excellence and religious formation. It strives to provide students with the appropriate programs, training, and environment so that through personal responsibility, they may become effective, independent learners and productive members of the community. Access to and training in advances in technology will be emphasized. Preparation also involves education and activities necessary to live and love as Jesus did.
---
Mission Statement
It is the mission of St. Paul Catholic School to provide the appropriate educational environment that will enable its students to grow spiritually, educationally, socially, physically, and emotionally by embracing the Gospel Message of Jesus Christ.