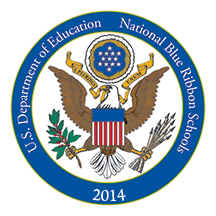 September 30, 2014
Dear Parents,
Today, US. Secretary of Education Arnie Duncan named St. Paul Catholic School as a National Blue Ribbon School of Excellence, placing St. Paul in the top 15% of all schools in the United States, and one of only 50 non-public schools to receive the honor. The National Blue Ribbon Schools Program (BRS) recognizes schools excelling in several areas. Schools must show exceptional student achievement with math and reading achievement each in the top 15% of students in the nation. Schools are also judged on the overall strength of the curriculum, the use of data to guide learning, engagement with parents and the greater community, how the faculty and staff work together, instructional techniques, professional learning of the faculty, and school leadership. Formal presentation of the award will take place at a ceremony in Washington, D.C. on November 11, 2014. Mr. Dave Maher, Ms. Andrea Lonneman and I will be representing St. Paul Catholic School in Washington, DC.
Of course our community has known for years that ours is an exceptional school. We are gratified to be recognized by others for what we do and how we do it. There will be much more news to come in a letter you should receive any day now. Save the day, Nov 16th. We will have our official celebration and kick off a week of activities to celebrate. Again, more to come.
Congratulations to everyone! We can all take pride in this accomplishment.